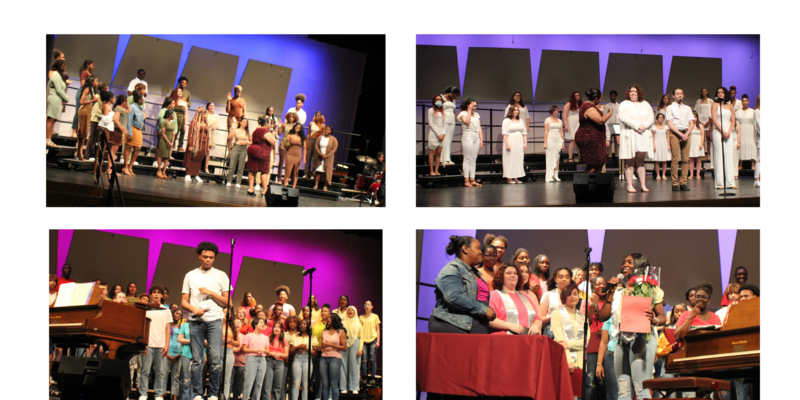 As the year comes to an end, we celebrate the hard work of the many talented students we have at Windsor Public School as well as the dedication to excellence from our devoted staff. Dr. White's Spring Choral Concert was a testament to the outstanding work being done at Windsor High School.
The standing-room-only crowd was treated to performances by the award-winning Teens of Praise Gospel Choir, the Honors Chorale, as well as special senior spotlights throughout the night. The room was filled with love and admiration and it is safe to say we all left feeling replenished and looking forward to the bright futures of this very talented group.
Be sure to check out where our seniors will be heading next, below.
---
Choral Department Graduating Seniors:

2nd YEAR SENIORS
G'Nique Brown University of Bridgeport (Biology)
Makayla Reed The Savannah College of Art and Design (Film)
3rd YEAR SENIORS
Lisaun Cohen (Social Work)
Natalie Lopez Southern Connecticut State University (Health Sciences)
D'Ahzja White University of Hartford (Psychology)


4th YEAR SENIORS
Alexis Agyei Central Connecticut State University (Elementary Education)
Alesha Atkins University of Hartford (Nursing)
Sanaa Barnes Manchester Community College (Interior Design)
Ivelisse Correa Southern Connecticut State University (Business Administration)
Shaniya Frater Asnuntuck Community College (Business Management)
Tiarra Hargrove Job Corp (Nursing)
Tatiana Cranston Work Force
Christine Damas Manchester Community College (Art Therapy)
Aryana Duncan-Adam University of Massachusetts Lowell (English- Theater Arts)
Camryn Johnson Southern Connecticut State University (Sociology)
Cyana Lindsay North Carolina Central University (Kinesiology)
Leah Lopez Asnuntuck Community College (Business Administration)
Allison McCarthy Elon University (Fine Arts)
Amanda Romero University of Connecticut (Nursing)
Ainsley Sasportas Olivet Nazarene University (Expressive Arts Therapy)
Adyanna St. Amand Manchester Community College (Music Studies)
Shanya Thomas University of Connecticut (Pathobiology)
Cameris Vargas-Edmonds University of Rhode Island (Medical Laboratory Sciences)
Charlie Williams University of Southern Maine (Psychology and Accelerated Law)